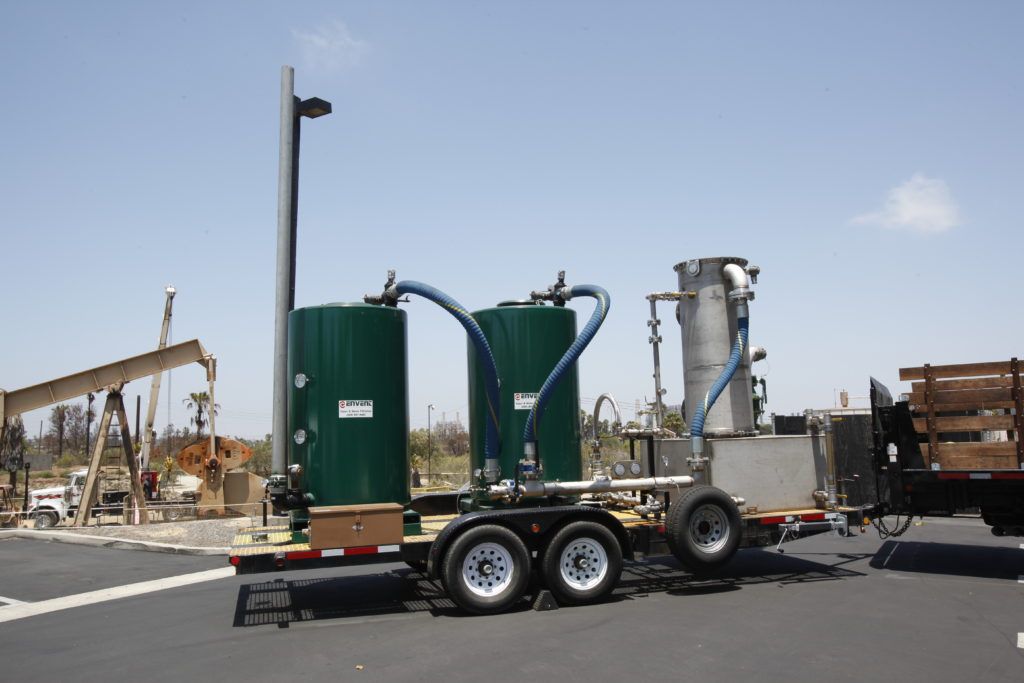 Challenge
A refinery sulfur recovery loading rack was giving off foul/hazardous odors to truck drivers and personnel located in immediate surrounding area of sulfur recovery unit (SRU) during truck loading events. Truck drivers inside the refinery were required to dawn SCBA's and load trucks with truck dome hatches open. They had to visually validate fill levels during loading events to prevent overfilling. Envent was requested to quickly find a solution to eliminate foul/hazardous odors and maintain an automated/unmanned long term solution, keeping truck drivers and SRU personnel safe from high H2S vapors during truck loading.
Solution
Envent engineered an unmanned, automated vapor control solution tied into existing plant power. Envent system consisted of an interchangeable truck dome hatch with windows for truck drivers to verify loading events. A movable vapor line arm creating 500 CFM of vacuum was then steam traced and fit up to a skid mounted ESCRUB 1000-P (knocking out sulfur fines) followed by ESCRUB 1000-SS Re-Circulating Packed Column Scrubber filled with an H2S scrubbing liquid media (removing all H2S).
Benefits
Envent's engineering department was able to custom design and build an unmanned vapor control solution alleviating refinery engineering manpower. Furthermore, Envent engineering streamlined a significant portion of an otherwise lengthy refinery MOC process by supplying system design specifications and drawings for Envent equipment (which is designed and fabricated in-house by Envent). Envent removed an ongoing odor control concern by creating a long term solution within weeks of design inception. Ultimately, Envent was able to eliminate H2S hazards all together; knocking inlet vapors from 1500ppm H2S to 0.0 ppm H2S.
Truck drivers, refinery operators and contractors are now working freely in the SRU without any odors or H2S hazards.