Exceeding EPA's Standards
When it comes to the best way to achieve total vapor control and reducing Greenhouse Gas Emissions, the Environmental Protection Agency (EPA) recommends using a thermal oxidizer.  Facilities that produce volatile organic compounds (VOCs) are required by the EPA to treat their pollutants before they are released into the air. This keeps hazardous vapors from entering earth's atmosphere from industrial work done at locations such as refineries, chemical plants, terminals, and ships/barges. At Envent, our engineers will work with you to determine the right thermal oxidizer for your specific needs.
What are Thermal Oxidizers?
A thermal oxidizer is a mobile degassing unit used to destroy VOCs through thermal combustion. The combustion reaction results in the byproducts H2O and CO2, which are safe to be emitted into the environment. At temperatures of at least 1400° F, Envent's thermal oxidizers incinerate >99.9% of vapors, providing a safe and efficient emissions process for our customers and their nearby environment. We built our thermal oxidizers with temperature, resistance, and turbulence in mind to engineer the most effective method of VOC incineration.
Envent's Thermal Oxidizers
The Envent Mobile Thermal Oxidizer System (EMTOS) is the industry's best thermal oxidizer unit. Envent engineered and built our units to destroy hydrocarbon vapors at the fastest and most efficient rates. We have the largest fleet and range of thermal oxidizers with burner capacities ranging from 1.5 MMBTU to 77 MMBTU. This means we are able to provide our customers with the right equipment for their job at the most cost efficient price, instead of taking a one size fits all approach. Vapors enter the thermal oxidizer, and >99.9% of vapors are destroyed, meeting the EPA's Best Available Technology (BACT) requirements. Along with our vapor destruction, we document our results with temperature chart recorder and back up digital units that confirm our performance, ensuring compliance on each of your projects.
Envent meets the EPA's BACT requirements and has earned the 'Thermal Oxidizer' designation.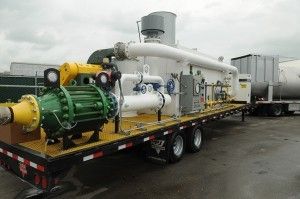 EMTOS and EMECS advantages
Getting you safely and rapidly through the explosive range of the degassing operation.
EMTOS is the only thermal oxidizer system that carries industry-led HAZOP certifications.
On-site destruction of all vapors and safe removal/disposal of all waste.
Third-party testing to confirm destruction efficiencies.
Certified emission uploaded to our secured eReport Client Login to confirm full compliance with all regulatory requirements.
Safe connections to vessels during plant turnarounds.
Continuous operation above 1400 °F, consequently eliminating the need for reclassification of units as "vapor combustors" to operate at lower temperatures.
Best demonstrated destruction efficiency in the industry, > 99% DRE.
Burner capacity up to 77 MMBTU provides refineries with fastest turnaround capabilities.

The ability to provide more burner capacity than 70 MMBTU by scaling up the solution adding multiple thermal oxidizers in parallel.