Exceeding EPA's Standards
If you want to know the best way to achieve total vapor destruction, just ask the Environmental Protection Agency. The Air Quality Management District, the TCEQ, New Jersey DEQ, and the EPA set 1400 °F as the threshold for meeting >99% vapor destruction efficiency, and it reserves the term "thermal oxidizers" for equipment that meet this standard.  Envent maintains the nation's largest fleet of thermal oxidizers for degassing operations. Our equipment achieves the 1400 °F minimum operating standard outlined in the EPA's Best Available Control Technology (BACT). Vapor destruction beyond 99% allows us to guarantee regulatory compliance on each of your projects, and we document our results with temperature chart recorders and back up digital display units that confirm our performance.
Envent meets the EPA's BACT requirements and has earned the 'Thermal Oxidizer' designation.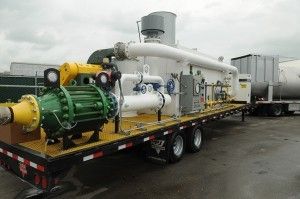 EMTOS and EMECS advantages
Getting you safely and rapidly through the explosive range of the degassing operation.
EMTOS is the only thermal oxidizer system that carries industry-led HAZOP certifications.
On-site destruction of all vapors and safe removal/disposal of all waste.
Third-party testing to confirm destruction efficiencies.
Certified emission uploaded to our secured eReport Client Login to confirm full compliance with all regulatory requirements.
Safe connections to vessels during plant turnarounds.
Continuous operation above 1400 °F, consequently eliminating the need for reclassification of units as "vapor combustors" to operate at lower temperatures.
Best demonstrated destruction efficiency in the industry, > 99% DRE.