Most Advanced Vacuum Truck Scrubbers in the Industry:
Envent Corporation's equipment fleet includes the most cost effective and advanced Vacuum Truck Scrubbers in the industry. New regulations add mobile-unit vapors to the emissions limits for an entire facility – which makes high-efficiency mobile scrubbing an absolute necessity. Third-party testing confirms that Envent mobile units deliver destruction efficiencies of > 99%.
Industry changes: Mobile Scrubbers Reduced Emissions Cost Effectively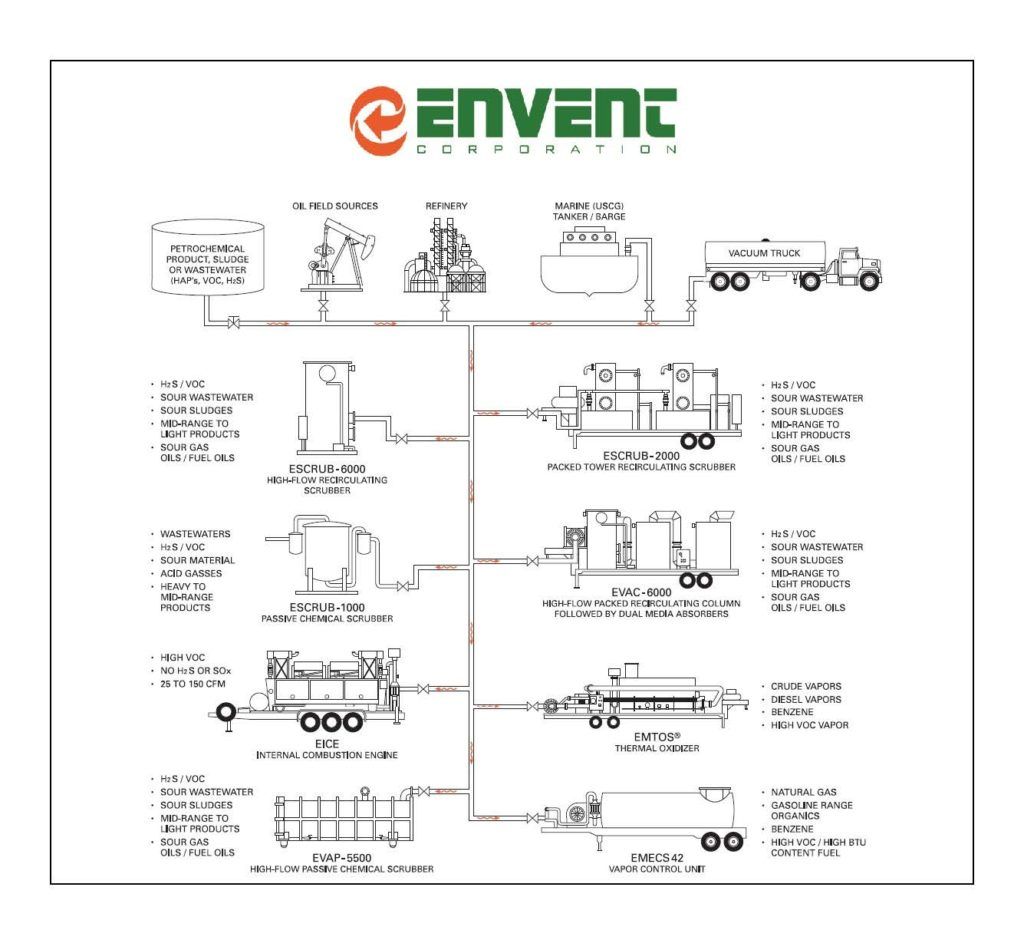 Envent mobile scrubbers safely control vapors
We use liquid scrubbers, oxidizers, and media filtration, depending on the product(s) being handled. Our services include:
Vacuum truck vapor/odor control systems
Liquid scrubbers for sour and acid gasses (Escrub with VapoScrub chemistry)
Industrial carbon filters for vessel and pipeline purging
Tank odor control and vapor control units (100% efficient)
100 – 6000 CFM Blowers for odor/vapor control
High volume blowers for tank entry
Solvent and chemical scrubbers
Super high volume scrubber units (6000 CFM Liquid Ring, "Super Suckers" and "Gap Vacs")
Custom assembled scrubber systems for a variety of vapor problems
Maintenance, Startup & Shutdown (MSS) compliant systems
Engineering & testing to certify the right system is deployed to the jobsite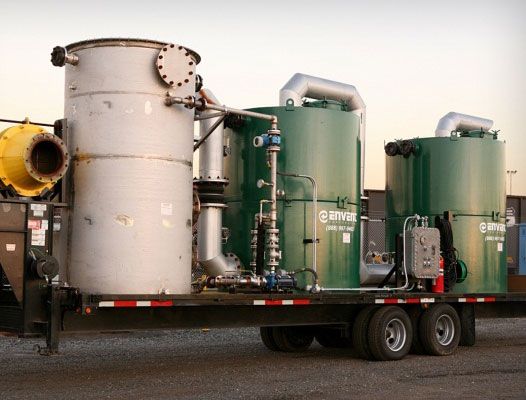 Vacuum Truck (& High Volume Liquid Ring) Scrubbers
Envent provides Total Plant Vapor Control Management with our full line of vapor scrubbers. The Envent Escrub™ Units with proprietary VaporBite™ Technology along with our line of EVACs & BD Units, blowers, thermal oxidizers when vapor scrubbers are the solution, carbon servicing teams all supported by our field technicians and engineers ensure you have a complete and total vapor management.