Complete Refinery Turnaround Service Provider
Time is money during the shutdown and turnaround processes – that's why companies call Envent for complete turnaround services from vapor control to water treatment during these critical windows of time.  As an expert contractor, our most critical factors are regulatory compliance, exposure and safety on behalf of our clients.  Even with years spent planning your turnaround or Maintenance, Startup, and Shutdown (MSS), an unplanned-for hitch in the plan can arise and put your plant out of compliance with local, state, or federal regulations, and cost valuable time.
Envent's Turnaround Services provide customized, engineered solutions.  These solutions include flareless options or assisting Flare Gas Recovery Units (FGRUs) during MSS events.  Envent can completely destroy a wide variety of vapors including steam, nitrogen, hydrogen, H2S, as well as high and low BTU vapor streams.  Envent can also treat water generated in preparing your unit for maintenance.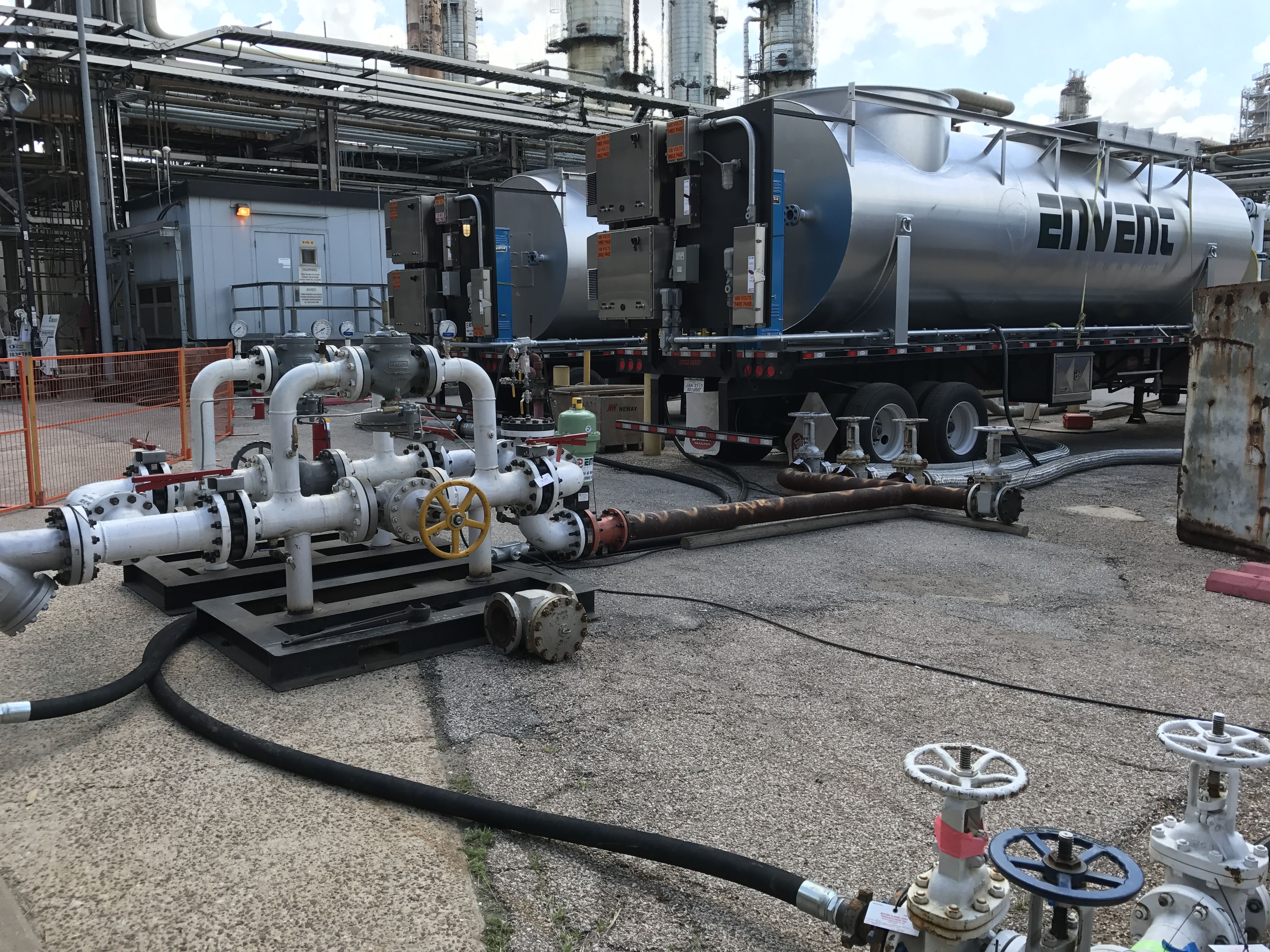 Petroleum Refinery Sector Risk & Technology Review (RSR)
The EPA has imposed new, more stringent emission limits, and Envent not only understands these new rules, but ensures that our customers will remain 100% in compliance. The RSR has removed the exemptions for MSS emissions, has added Benzene Fence Line Monitoring, and has required each refinery to submit a Flare Management Plan to limit flare emissions as well.  Envent can provide the flareless turnaround solution or assist the Fuel Gas Recovery Unit (FGRU) for your refinery, as we have demonstrated by our case studies.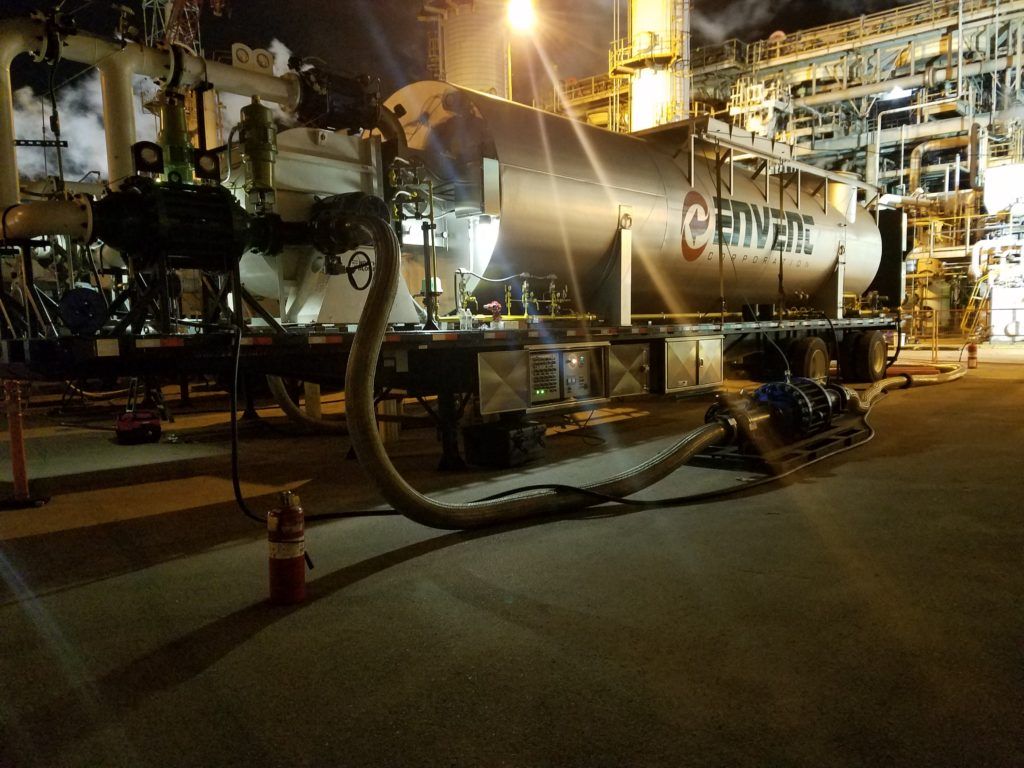 Safety is #1
Everyone talks the talk when it comes to safety, but how many actually walk the walk?  Envent does – and our TRIR of 0.0 proves it. Our employees work safely, and because we design and build our own equipment, we understand every detail and know how to safely operate in your facility.
We also strive to create and innovate, and our new Turnaround Safety Skid is a testament to our beliefs. This skid has reliability and redundancy built in, and will isolate the refinery from Envent's equipment in the event of an unplanned process upset. This system has been field-tested and provides an extra layer of protection.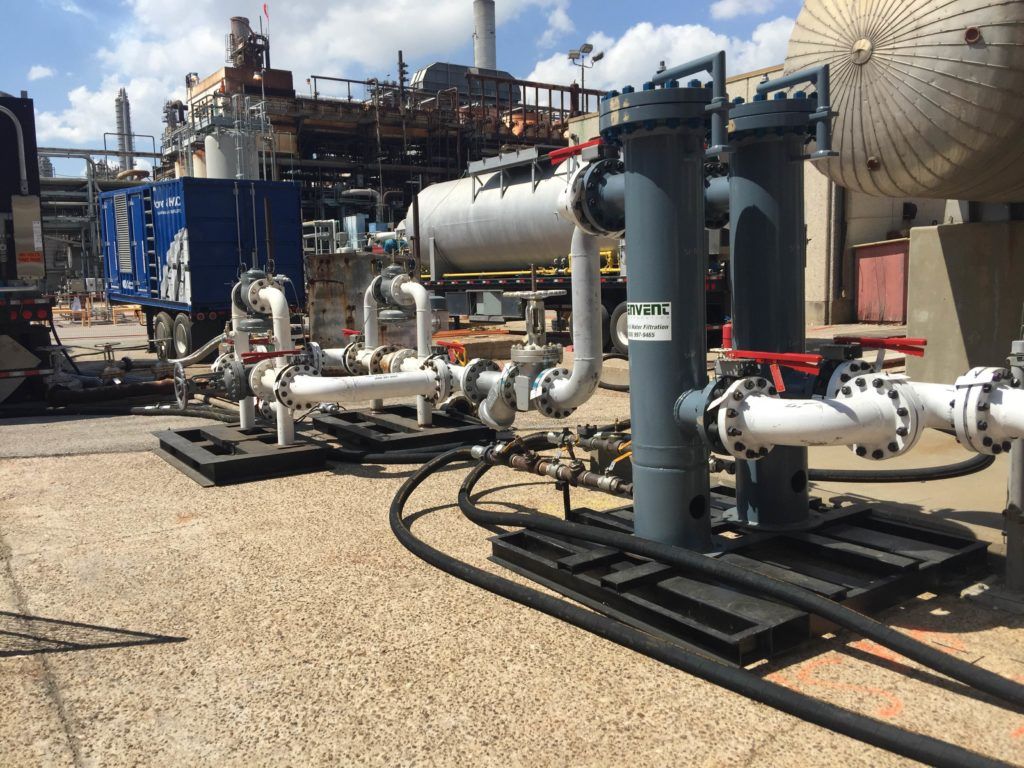 Time is Money
The RSR can limit the use of a refinery's flare during a turnaround, causing extended depressurization and decontamination time before the first bolt is turned by maintenance crews.  Envent has the largest fleet of thermal oxidizers in the United States, as well as the largest, mobile thermal oxidizer available – the EMECS 70, capable of 34,000 SCFM and 70 MMBTU/hr. This means that Envent can shorten the time it takes to depressure a unit, safely and 100% in compliance.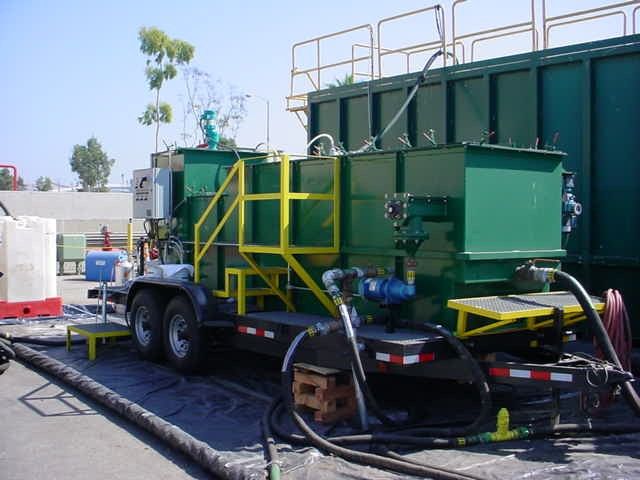 Customized, Engineered Solution
Envent engineers work directly with your turnaround planning team and environmental department to customize a solution for all of your vapor control and water treatment needs, often months in advance.  Our engineers helped design and build our equipment, and they are experts at providing the right solution, customized to your facility, each time.  This type of consultation and provision of expert operators and equipment includes having the tanks, piping, pumps, scrubbers, water treatment systems, proprietary chemicals made available to the plant, as well as sophisticated compliance monitoring and reporting done by expert operators and engineers.
24 / 7 Support
Maybe you know of someone that called Envent Corporation because they hit a snag during their refinery turnaround and needed a specialty contractor urgently.  We mobilize immediately to support our clients.  Or maybe you're in the planning stages now – call us!  Envent's clients for routine management of mobile water and vapor control book 2-4 years in advance of planned outages.  Engineering and deploying the best solutions for the vapor control and water treatment portions of your turnaround while ensuring that a plant meets local, state, and federal regulations is well beyond the scope of 'jack-of-all-trades' general contractors.
Contact Envent Corporation today at solutions@envent.net or phone our on-call engineering team at 888-997-9465.