Pipeline Degassing Leaders
Envent Corporation has safely degassed more pipelines than any other company in the world – and we continue to build on our record of accomplishment. Whether you want a pipeline flared or degassed using an Envent Mobile Thermal Oxidizer System (EMTOS), we have the solution. We use thermal oxidizers, thermal combustion units, flares, activated carbon scrubbers and liquid carbon scrubbers to destruct vapors and associated odors from pipelines of every description – from long-haul transmission lines to refinery pipelines carrying chemical products.
In some regions, pipeline degassing is just good-neighbor policy but in regions where emission monitoring and reporting is required an EMTOS or EMECS is definitely the right choice. Envent operates a fleet of pipeline flare units that are ready for when you need them.
Our Two-Goal Approach
We approach each pipeline degassing assignment with two goals: to safely control all emissions and meet all regulatory requirements. With nitrogen purging techniques and our array of equipment, Envent has the ability to tailor our services to meet each customer's needs. Whether a pipeline is letting off hazardous gases or noxious odors, our state of the art thermal oxidizers and VOC scrubbers will provide an efficient and cost effective solution for emission control. As a specialized provider with over 25 years of experience, we have the knowledge and equipment to provide the industry's best pipeline depressurization and degassing services.
We document our results and provide you with detailed, certified reports you need to ensure 100% compliance with state and federal environmental authorities. When it comes to safe pipeline degassing, call Envent.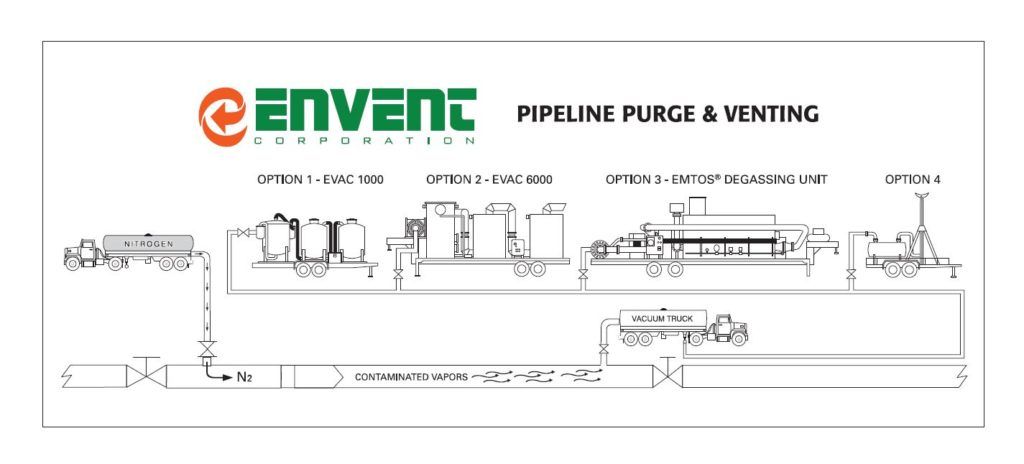 Envent Corporation Pipeline Degassing Services:
Thermal Oxidizers, Combustion Units (> 99.9% DRE)
Vapor scrubbers, chemical scrubbers, carbon scrubbers (Escrub, EVAC, VapoScrub)
Handling of gasoline, butadiene, benzene, sour materials, raw and finished product, and chemical pipelines
Vapor destruction and odor control for natural gas, propane and butane pipelines
Combustion and scrubbing of contaminated gases used in maintenance or inspection work
Maintenance, Startup and Shutdown (MSS) compliant systems
Engineering and Permitting Services
Turnaround services