EMTOS and EMECS: Rapid, safe degassing
We designed our Envent Mobile Thermal Oxidation System (EMTOS) to be the safest, fastest and most effective means of degassing large storage tanks. Using the Environmental Protection Agency's 1400 °F threshold, EMTOS efficiency for complete vapor destruction is > 99%. Third-party tests confirm our performance, and we document every job with continuous temperature chart recorders and data collected by flame ionization detectors, photo ionization detectors and flow meters.  Envent is the Best Available Control Technology (BACT). Envent is Maximum Available Control Technology (MACT). Our commitment to thorough documentation guarantees that Envent Corporation will meet all regulatory requirements!
Envent's EMTOS units safely process from 250 to 6000 cubic feet per minute.  The EMTOS 6000 can degas a 150 ft. diameter tank in as little as 4-6 hours, depending on specific levels of sludge, scale, product and regulatory requirements. Degassing a 250 ft. diameter tank can easily be completed in less than one day.
Our Envent Mobile Emission Control System (EMECS) units can refill tanks and vessels up to 20,000 BBLs per hour, depending on product vapor pressure and BTU content.  We have the largest fleet and biggest mobile systems available. We are always innovating so ask us to help you solve your next vapor control challenge.
Envent's mobile degassing teams use state-of-the-art equipment to get the job done safely and quickly.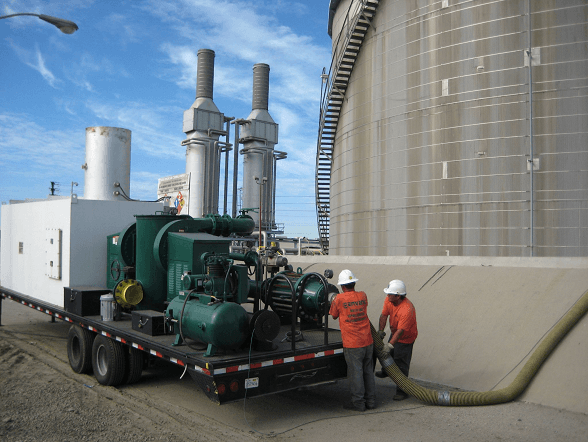 EMTOS and EMECS advantages
Your process is safely and rapidly through the explosive range of the degassing operation.
EMTOS is the only thermal oxidizer system with HAZOP certifications from 9 major oil companies.
Destroys all on-site vapors.
Safely removes all burn residues for disposal.
Third-party tests confirm and document all destruction data.
Certified reports to ensure your project is in full compliance with all regulatory requirements.
Spheres and pressure vessels degassed quickly and effectively.
Tank and vessel refloating up to 20,000 bbls using either Envent's EMTOS or a "thermal combustor" unit that operates at lower temperatures – both options easily outperform high-BTU type units.
Achieves the EPA BACT 1400 °F temperature requirements.
Engineer confirmation that the right equipment is applied to each job.
Permits and certifications in most major air districts and states.
Pre-combustion scrubbing systems for ammonia, hydrogen sulfide for the nastiest tanks.