Envent Ensure Compliance
Envent Corporation provides marketing terminals and bulk storage facilities with advanced portable emission control units that manage emissions and ensure environmental permit compliance. Our highly trained operators and engineers have handled assignments in every type of terminal, including rail, pipeline, clean fuels, crude oil, natural gas, and industrial gas. Envent deploys vapor control systems throughout the country, and our teams are available 24/7 to handle any emergency.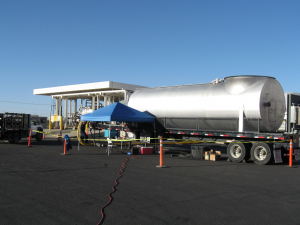 Envent Creates Your Turnkey Solutions
We specify the correct system for your job.
Provide the proper HAZOP or MOC input.
Mobilize, set-up and coordinate the tie-ins to existing PLC or electrical shut-downs.
Envent maintains the nation's largest fleet of combustion units, with options ranging from 5 MMBTU thermal oxidation devices to our largest high-VOC loading unit – the 42 MMBTU Envent Mobile Emission Control System (EMECS). We maintain Certification and Air Agency Permitting (CARB) in most air districts and states. If we don't have the permit, we will get it!
Envent's equipment fleet includes a variety of mobile and skid-mounted scrubbers and absorbers to handle emissions controls for rail cars and truck loading on a long-term or short-term basis. Capacities of our vapor scrubbers range from 50 CFM up to 5000 CFM, with options including caustic scrubbers, amine-based absorbent liquid, and specialty carbon absorbent media.
As a full service specialty vapor control contractor, Envent handles everything from turnkey field operations to engineering and equipment solutions.  For more than 20 years, Envent has specialized in all forms of vapor control – and our unmatched technical expertise guarantees the safe and efficient completion of your assignments. Call us today to find out how we can be of service on your next project.