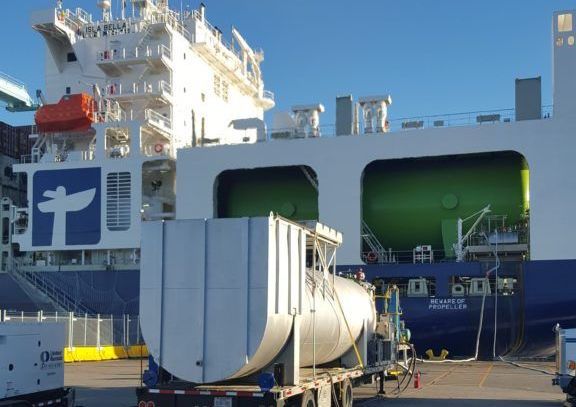 New regulations in January 2020 will have considerable effects to the maritime industry. This deadline will implement rules designed to reduce sulfur emissions, and shipping companies have been tasked to find alternatives for cleaner fuel in order to comply.
A leading choice for cleaner energy is liquefied natural gas. This fuel source must be stored at 260 degrees Fahrenheit below zero and kept in cryogenic fuel tanks. Offering numerous benefits, this fuel is becoming a more common option among shippers, but it is vital for engineers to embrace the unique challenges brought along by LNG.
Healthier Option for Land and Sea
LNG is not the only option for shipping companies to choose from, but it is a healthier choice.
Whether building new ships or retrofitting old vessels, a company opting for LNG can greatly reduce their carbon footprint to the following degree*:
Nitrogen oxide – 85% decrease
Airborne particles – 99% decrease
Sulfur emissions – 99% decrease
Carbon dioxide – up to a 25% decrease
 *Compared with other traditional fuel sources
It may not be realistic for every ship to convert to LNG use, but its impact on the environment cannot be denied. As the maritime industry continues to comply with an increase in "green, Earth-friendly" regulations, it is reasonable to assume companies will develop more ships that can run on LNG.
The Value of Experience
As technological advancements in operational systems are implemented within the shipping industry, specialized engineering firms like Envent Corporation must adapt their existing equipment to effectively address future maintenance and repairs.
Adjustments of this nature will rely upon the skills and experience of the engineers involved to be developed effectively. This is why Envent is highly selective in their hiring process and values engineers who possess a variety of engineering qualifications.
When projects require knowledge of cryogenic materials and how external factors may affect them, it is Envent's team of diverse expertise that will be able to take on the challenge.
Keeping Pace with the Future
Until the majority of the maritime industry runs on LNG, many shipping companies will be looking to less expensive options.
Alternatives for ships to comply with the January 2020 regulations include installing sulfur scrubbers, scrapping aged ships, or burning low-sulfur marine gasoil (LSMGO). The most attractive of these choices is LSMGO, which is easy to implement as a fuel source but will be more expensive in the long run.
Therefore, continued interest in environmental concerns will shift shipping companies towards the use of fuels like LNG, requiring engineers to keep up with the industry standards and advancements.
Meeting the Needs of the Present
The future is now, and LNG ships can only be accommodated in limited areas around the world. The United States is one of the few countries that has bunkering facilities for these modern vessels, so it is of utmost importance that licensed engineering specialty contractors continue to educate themselves to take on this work with confidence.
As you anticipate the eventual maintenance and upkeep for your cryogenic fuel tanks, contact Envent Corporation today to discuss how they can assist you in the years to come.