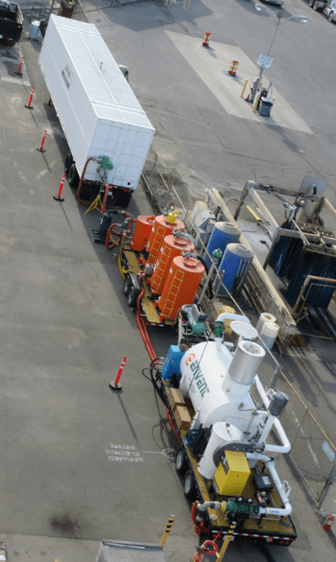 ENVENT Corporation unveils another expansion to their mobile fleet of vapor control and degassing equipment servicing North American petrochemical clients with leading technology that meets rigorous environmental regulations.
DEER PARK, TX – Envent Corporation continues to expand its fleet of petrochemical vapor control and degassing solutions. The newest solutionis the Vapor Bladder System (VBS) – a proprietary vulcanized rubber bladder. This new technology, in conjunction with the Envent Mobile Emission Control System (EMECS) is in high demand at ship, truck, and railcar loading facilities, including pipelines and terminal facilities. The VBS allows Envent's array of vapor control equipment to operate effectively without the problems associated with swinging flow rates at these facilities.
Aptly named Vapor Bladder System, the VBS is designed, fabricated, and inspected to contain hydrocarbon vapors as an expandable vapor holder – ideal for most loading operations. The benefit of this technology is that it provides smooth, unrestricted loading to customers. The unrestricted loading can double a systems throughput be eliminating high flow rates during peak loading times – which overload most vapor recovery systems. The VBS reduces assist gas usage by providing a more stable vapor stream – and reduces emissions by the same principle. The trailer-mounted construction is built to mobilize quickly to your loading project – anywhere in North America.
This newest roll out from Envent provides an easily mobilized, safe & vapor tight solution to swinging vapor flow rates resulting in decreased emissions, decreased operations expenses, and increased loading capacities. While known for providing the best mobile degassing technology in scrubbers and thermal oxidizers, Envent also provides specialized, engineered equipment for critical operations occurring in your facility.
For further information call 888.997.9465. See details onwww.enventcorporation.com or www.vapor-scrubbers.com.