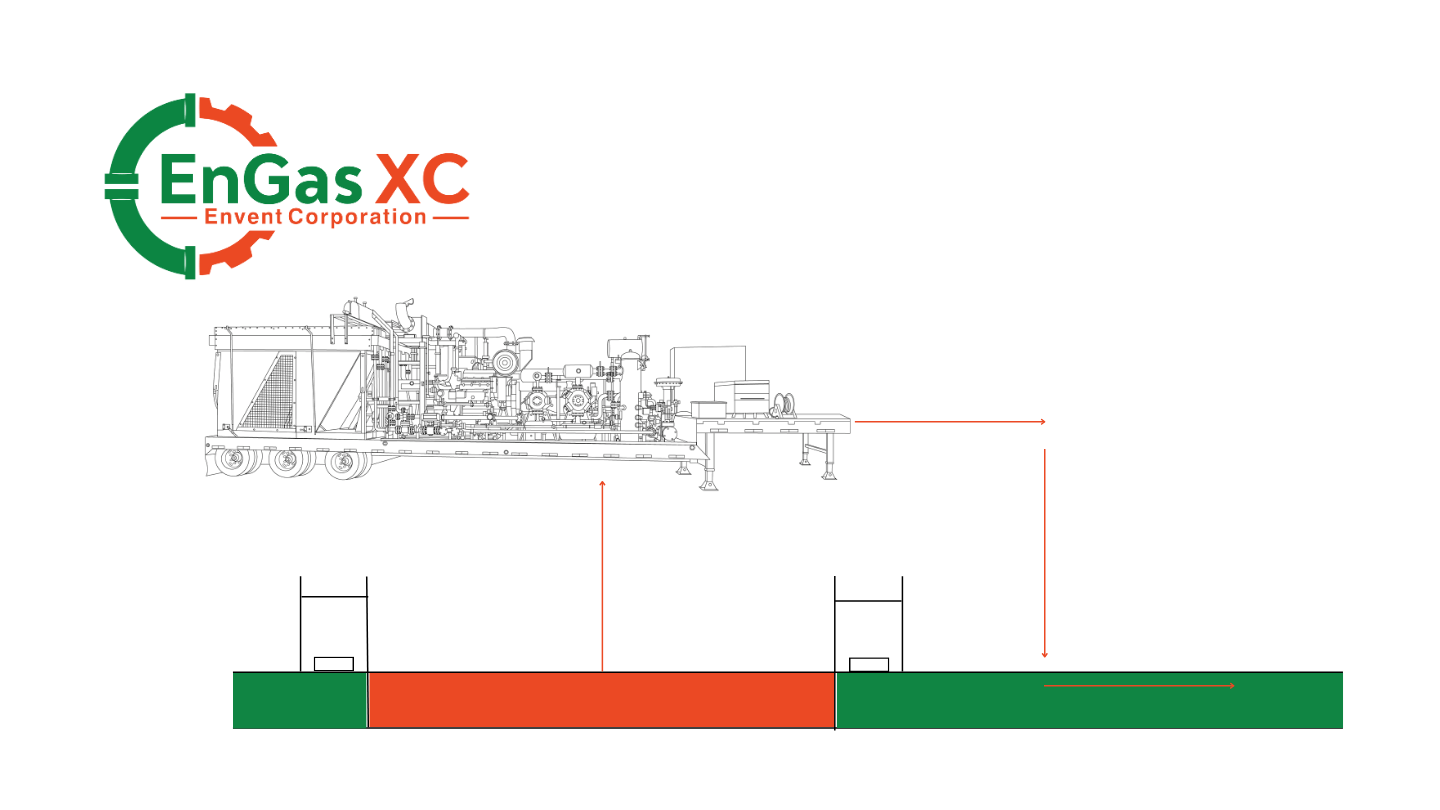 Challenge
A West Coast natural gas transmission and distribution company required inspection & maintenance on a segment of methane pipeline. That section of pipe would need to be drepressured/ evacuated and deinventoried prior to performing the required maintenance. The client did not want to release the natural gas into the atmosphere (~1 Million lbs CO2e), or lose that volume of valuable natural gas to a flaring.  Besides the May 2023 promulgation of Part Two of the Pipeline and Hazardous Materials Safety Administration (PHMSA) MEGA Rule requires measures to enhance pipeline safety and reduce pipeline failures. PHMSA issued the Mega Rule in response to a number of incidents that highlighted the need for improved pipeline regulations. .  The customer opted for the EPA Best Management practice of Pipeline recompression.  Envent was contracted to perform this with our state-of-the-art line of mobile cross-compression pipeline evacuation units.  Operators of natural gas pipeline systems routinely reduce line pressure and discharge ("blowdown") gas from pipeline sections to ensure safe working conditions during maintenance, testing, repair, and replacement activities.  This impacts the 3 million miles of natural gas pipelines that crisscross the US.
Solution
These portable recompression units require no additional utilities. The natural gas powered 400 Hp engine, drives the portable cooler, compressor, and alternator for battery backups. Equipped with industry standard Safety Shut Off Valve, bolt up consists of a single hose run to and from the compressor. No regulator, no additional fuel line, or no added tie in points. Suction gas pressure is introduced into the compressor, which is compressed high enough to move the volume back into the main pipeline. As suction pressure drops, the unit auto adjusts its compression ratio to meet its target discharge pressure. Envent's fleet is comprised of 1, 2, and 3 stage compressors capable of evacuating pipelines to <5 psi, from 1400 psi! A summary report is delivered to the client with swept volume, $ saved, CO2e documentation, and much more. We provided our newest unit for this temporary compression project.
Benefit
By using Envent, the client can have the peace of mind knowing that they will have the latest in pipeline evacuation technology. Equipped with Ariel Smart Compressor technology, these units provide a state of the art advancement in temporary pipeline recompression, also known as pipeline evacuation and cross-compression: Remote monitoring, data logging, automated PSV protection (automated recycle loop), and much more. Since 1992, reliability, efficiency, and responsiveness are core values within this business segment and to Envent. In addition to the benefits listed above, the client also benefits financially, as they are able to recover the cost of the gas recovered.
Envent is ready to respond to your next pipeline evacuation needs! We help our customers throughout the US and Canada with methane mitigation and industrial decarbonization.