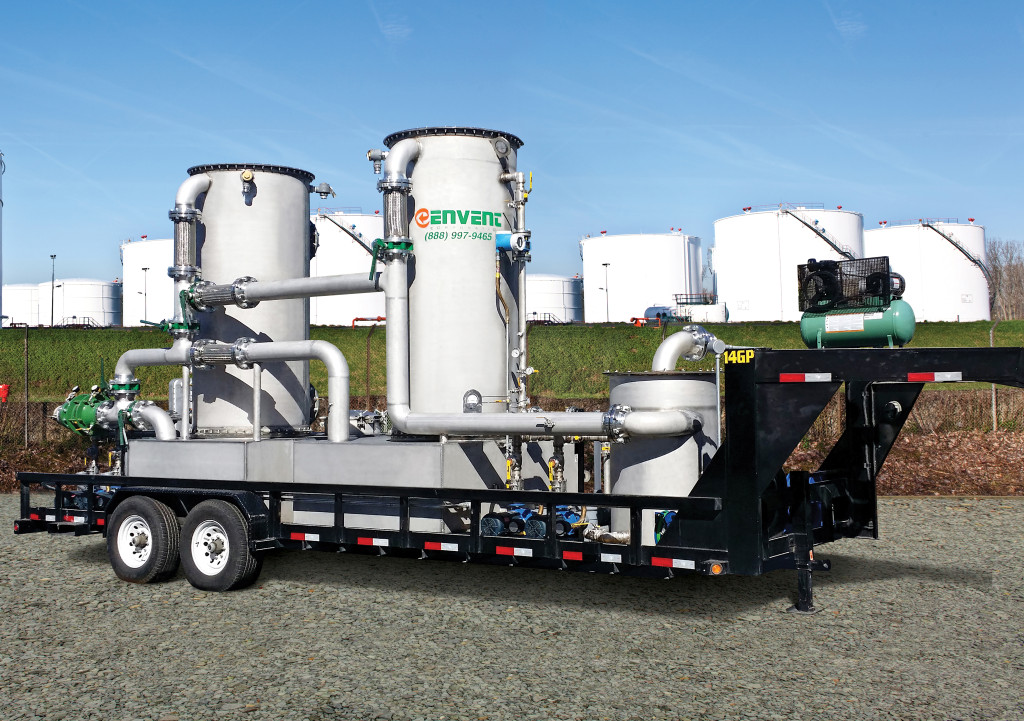 ENVENT Corporation reports another successful expansion to their mobile scrubber fleets – servicing North America petrochemical clients with leading technology that meets rigorous environmental regulation. 
Long Beach, CA (PRWEB) April 07, 2015
The ESCRUB 2000-3 is the newest addition to ENVENT Corporation's continually expanding fleet of petrochemical vapor abatement equipment — a dual chamber, dual-packed column, recirculating scrubber system designed for mobile vapor control serving the petrochemical industry, refineries, chemical plants and marine vapor control operations.
Constructed entirely of 304 stainless steel, ESCRUB 2000 is designed to contain caustic, acidic and other chemical solutions for treating a variety of hazardous petrochemical vapor compositions. The ESCRUB 2000 is trailer-mounted for efficient transfer to client facilities and contains explosion-proof electrical for operation in the most hazardous of locations. Redundant critical process components ensure plant operations are never without a functioning scrubber system.
The ESCRUB 2000 is used for scrubbing Volatile Organic Compounds (VOCs), Hydrogen Sulfide (H2S), Ammonia, Crude Oil & Gasoline Vapors and other Refinery and Chemical Plant Vapors. This state-of-the-art scrubber is capable of processing up to 1000 CFM and can provide removal of up to 10,000 ppm H2S. This system is highly mobile and has been proven in the harsh oil fields of Canada, refineries in Louisiana and Pipeline and Terminal Operations in New Jersey.
Envent's senior engineering team confirms that, "The ESCRUB 2000 can be mobilized and operational by Envent Corporation to all 50 states and Canada within 2-5 days."
Envent Corporation will mobilize the unit, work with engineering to provide the Hazop or Management of Change, develop a site specific safety and operations plan and provide turnkey operation when needed.
For further information, call Kenton Mills at (888) 997-9465 or through email at kenton.mills@envent.net See details on https://www.enventcorporation.com or http://www.vapor-scrubbers.com