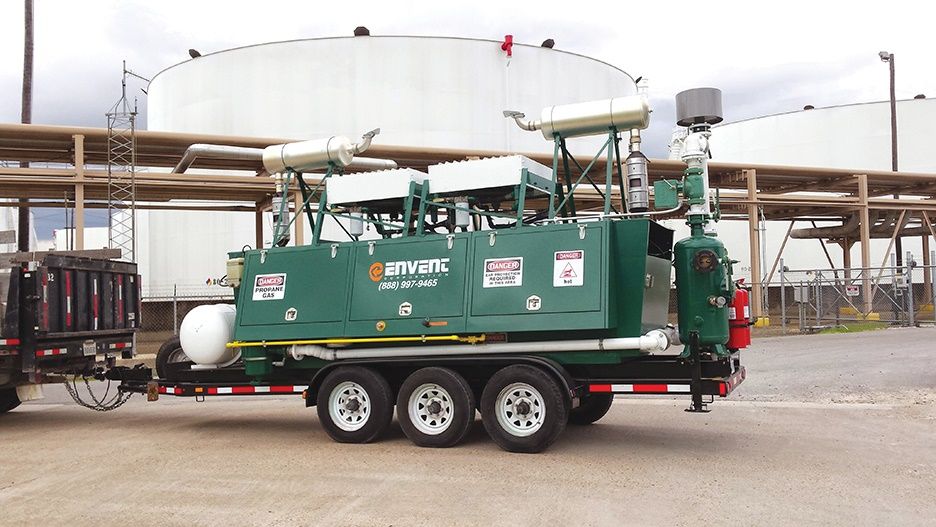 ENVENT Corporation reports another successful expansion to their mobile degassing fleet servicing North American petrochemical clients with leading technology that meets rigorous environmental regulations.
LONG BEACH, CA (PRWEB) July 13, 2015
Envent Corporation is continually expanding its fleet of petrochemical vapor control and degassing solutions. The newest solution is the SAFE ICE – a dual internal combustion engine system designed to safely degas smaller vapor sources.
Aptly named SAFE ICE, the unit is equipped with a detonation arrestor, an automated process isolation valve, and dual check valve engine backfire protection. These process components set the SAFE ICE apart from competitors' units in terms of safety – and ensure that your facility remains safe. Redundant critical process components ensure that plant operations are never without a functioning degassing system.
The SAFE ICE unit takes existing technology and enhances it for safe operation in refineries, terminals, pipeline stations and chemical plants. The system can process upwards of 185 lbs/hour of VOCs at up to 150 CFM. This newest rollout from Envent supplements their fleet of degassing equipment. While known for the best mobile degassing technology in scrubbers and thermal oxidizers, Envent reaches in to the Internal Combustion technology to provide an easily mobilized system for smaller jobs.
For further information call or email Jay Nyberg at 888.997.9465 or email him at Jay.Nyberg@envent.net. See details on https://www.enventcorporation.com or http://www.vapor-scrubbers.com